It's been awhile since I posted CLAN ELVES news over here, now that I have a site that covers all of Lyndi's books. But with THE ELF GUARDIAN out, I think the elves site needs some love too! And what better way to show love that to post a snippet for Science Fiction Fantasy Saturday!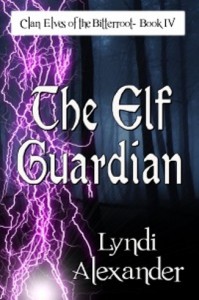 Book Four of the Clan Elves of the Bitterroot series picks up several years after the other three, and involves a climate/earth shift crisis in the Montana mountains:
The strong Earth energies that support the Clan Elves of the Bitterroot have gone awry for unknown reasons, and the powerful forces at work have not gone unnoticed by the outside world.
When a paranormal investigator looking for a story to save her career is told a fantastic tale by the juvenile and disobedient elf prince Elliun, his young albino elf bodyguard Max must try to fix the mistake.
Can Max get  humans, mages, and elves working together in time to save the land before the energies spin out of control? Or is this the end of the elven world in the Bitterroot Mountains?
I've posted previous snippets from this book introducing readers to the paranormal investigator, Chiara diLuna, and I think people are still prepared to like her.
Today's snippet, though, goes back to the close relationship between humans Lane and Crispy, who are friends of the elf queen, as they're on their way to warn the clan about the investigator's arrival. Both of them grew up in foster care, and they have some…issues. But this bit tends to define how they feel about each other:
***
"You can do anything—you have the protection of the elves and the magic laptop. You can even kill evil elf usurpers! And you're just…." Crispy struggled for the right words. "You've always taken care of me, Lane. Even when I was at my most lost, you could always find me. Whatever life gives you, you always throw it back in its face. Nothing ever gets to you." A small smile came to him. "I want to be you when I grow up."
***
This pair are some of my favorite creations ever, and they're in every book of the Clan Elves series. I confess Lane actually took over THE ELF MAGE. But how else can you deal with a Kevin-Smith-like computer geek with a passion for Creamy Cupcakes and a tolerance for all flavors of crazy?
Find out more about THE ELF GUARDIAN here or at my other blog, Lyndi Alexander and her Worlds of Fancy . It's available at Amazon.com, Barnes and Noble.com, Smashwords, Apple iTunes and more!
For more delicious snippets from authors around the world, stop back at Science Fiction Fantasy Saturday and enjoy!