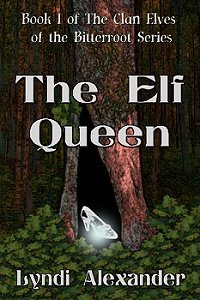 Jelani Marsh finds a glass slipper on the city sidewalk and tries it on for laughs. The slipper shatters, slicing her foot, and dozens of tiny men scatter from the bloody remains. A moment later, her foot is miraculously healed and they're gone.
This is the first in a series of meetings that will unravel everything she knows. In the following weeks, the sassy barista from Missoula, Montana, will learn she is not an orphan, as she'd been taught to believe, and that her life story has been a deception, right down to the circumstances of her birth. A menace arises from her family's past that could threaten everything she holds dear, including her own life.
Two groups help untangle the mystery: her human friends—life skills coach Iris Pallaton, computer geek and gamer extraordinaire Lane Donatelli, and "Crispy" Mendell, an agoraphobic abuse survivor—and her new-found elf companions, Daven Talvi and Astan Hawk. Can she learn about her true roots and absorb the implications of her new life in time to save her friends, her family,  herself?
This urban fantasy, released in July 2010 by Dragonfly Publishing, Inc., can be ordered in hardback and paperback from your local bookstore, or in ebook format online.
The Elf Queen by Lyndi Alexander book trailer
[youtube=http://www.youtube.com/watch?v=9ASCJ8H5wO4]
Read an excerpt here! http://www.dragonflypubs.com/dfp/elfqueen.html
or here:      http://stanza-ebooks.com/sample/19803/the-elf-queen
[Clan Elves of the Bitterroot Series - Book I]
Fantasy (256 pages) [80,000 words] Rated PG
Paperback [EAN 978-1-936381-03-6 | ISBN 1-936381-03-6] 5.5×8.5 trade trim or 6×9 library trim (256 pages) | Average Retail Price: $14.99 || Paperback at Amazon | Paperback at Amazon UK | Library Paperback at Barnes & Noble | Discount Library Paperback at Lulu |
Hardback [EAN 978-1-936381-00-5 | ISBN 1-936381-00-1] 6×9 Library Casebound (256 pages) | Average Retail Price: $21.99 || Hardback at Barnes & Noble | Hardback at Lulu |
eBooks [EAN 978-1-936381-02-9 | ISBN 1-936381-02-8] 80,000 words (rated PG) | Average Retail Price: $4.99 || Kindle at Amazon | Kindle at Amazon UK | EPUB at Apple iBooks | EPUB at Barnes & Noble | EPUB at Kobo Books | EPUB at Smashwords | EPUBS also at Blio, Open Library, Overdrive, Scribd, and more
Wholesale vendors can purchase at Createspace Direct and Ingram.
Paperbacks are now available through several different sources, but for a special deal for our favorite readers, go to Createspace, where Dragonfly has this SPECIAL: Get 15% off all paperbacks at our Createspace eStore by entering the discount code B3PY6HNE at checkout. [Insert code as shown.] http://www.dragonflypubs.com/shop/createspace.html
DID YOU ENJOY READING THE ELF QUEEN? If you'd like to send it to someone you love for the holidays, email me and I can send them an autographed copy, beautifully wrapped in foil, for them to have under their tree!
One of our fabulous reviews– see more on the Mountain Trail pages!
The moment I started reading The Elf Queen (Book 1 of The Clan Elves of the Bitterroot Series) I was engrossed in the story. It is filled with mystery, suspense, questions, laughs, and loads of friends. I wanted to be right there to help Jelani find all the answers she is looking for. Not mention to hurry up the romance that was blooming between the lines. I wanted to know the whole story but was sadly left hungry for more. The good news is the rest of the Trilogy is already set to be published…   From Rita's Reviewers
From Ed Post at the Erie-Times News: http://www.goerie.com/apps/pbcs.dll/article?AID=/20101017/ENTERTAINMENT05/310179957/-1/RSS