We were at I Love Your Shoes in Meadville today, with the glass slipper challenge–if the shoe fits, you have a chance to win an autographed book of The Elf Queen or a Clan Elves of the Bitterroot mug filled with teas, coffee and hot cocoa!
See some of the fun here: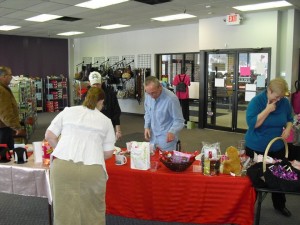 People from all around the mall came in to have some treats, and to judge the awesome fudge contest! ILYS will have a signature fudge from 3 Gals Gourmet–either raspberry/chocolate or orange/chocolate– there's still time to cast your vote!
(And the strawberry fudge with FRESH STRAWBERRIES…omg. Tastes just like an ice cream sundae.)
We had a number of ladies try on the slipper in their quest for a book–almost had a gentleman try it on, because he felt lucky in the store. No winner yet, so people can still stop in till 6 p.m.
All in all, a short but VERY sweet chance to meet people in the community, and introduce them to several women in business. If you didn't catch your chance for a copy of The Elf Queen, remember you can buy them online at Amazon or Barnes and Noble or locally at Tattered Corners on Chestnut Street. Happy Valentine's Day!