Thanks to RACHEL BRIMBLE for being with us today. First, would you tell us a bit about yourself? What area of the country do you live in, do you have a family, pets, etc.
I live in the UK with my husband and two daughters who are 11 and 9. We also have a black Lab called Max, two hamsters, Coco and Charlie and a goldfish called Bubbles!
 
Tell us about your most recent publication/whichever book you'd like to talk about today?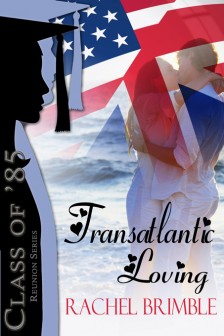 My latest release is a novella called Transatlantic Loving and it is a contemporary romance set in the upstate New York, fictional town of Summerville. It is part of a series 'Class of '85′ created by The Wild Rose Press senior editor Kathy Cottrell. Kathy edits for the Last Rose of Summer line, which revolves around older heroines. She came up with the premise of a high school reunion and the only compulsory aspects contributing authors had to include were a pre-written invitation and either the hero, heroine or both had to of attended the school and graduated in the Class of 1985.
 
What inspired you to write this story?
As soon as I heard about this series (and they are still accepting submissions, by the way!), I knew I had to be a part of it. I enjoy writing about British heroines for The Wild Rose Press and very soon I knew my heroine would be a visiting Brit dragged along to the reunion by her American friend. As she was of a more mature age than I normally write, I threw in a big of baggage, a broken heart and then along came the American hero who was going to kiss it all better…
 
How would you best describe your books?
Romantic, funny, sensual – and I hope, a damn good read!
 
What is your favorite genre to write? To read?
Romance all the way – but I do write across the sub-genres of contemporary, suspense, historical and comedy. Which sub-genre each book falls into depends on the voice of the heroine when she comes into my head. That's how all my books come to me, the heroine's voice. I can be doing anything mundane, ironing, walking the dog, cleaning, even washing my hair and then I'll hear a female voice either whispering, talking or shouting and I know the next book will start formulating in my mind over the next few weeks until I have the premise. Once I have the premise, I write the synopsis and then comes the hard bit…
I read EVERYTHING!!
 
What would you write if you could do write anything you wanted to write?
I do write anything I want to write – the minute I start writing my internal editor is switched off and the words I type are exactly what I want on the page. When I first start writing, I battled with my internal editor all the time. I would worry what my mother thought, worry if I was any good, worry that friends and family would think I was writing about them. Now? I switch those worries off and just get on with it!
 
What do you most like about writing? Least like? When did you first know you wanted to be an author?
I love all of it but if I had to choose a favorite, it would probably be the second draft – I love having the first draft ready to play with. It's so liberating to know the words are down, now you have to make them and the story shine! A close second to this is receiving the cover art – I love that! The thing I least like is plotting – the ideas come fairly easily but an idea is not enough to carry 80,000 words so its injecting the twists and turns that always get my agitated. When I was about 11, i wanted to be a journalist but it wasn't until I was at home with my second baby, I knew I wanted to write stories, romantic, fictional stories.
 
Tell us a little about your path to publication. How many books have you published? How many books did you write before selling one?
I started out writing short stories and failed dismally in selling any to the women's weeklies I was sending them to but did very well in contests both in print and online. This gave me the much need confidence boost to keep going but then the idea for my first book came one night when my husband and I were talking about him being adopted and tracking down his birth mother. I began to wonder what would his birth mother would feel like if she had been told he had gone missing when he was a child – abducted. And then before I knew it, I had written 30,000 words. Searching For Sophie was my first attempt at novel-length fiction and sold to The Wild Rose Press at the end of 2006.
How did you find a publisher? How did you receive the Call?
I found The Wild Rose Press via one of the online Yahoo groups I belong to – these groups are a great resource of information. A big discussion started about a new and expanding epublisher whose book covers were of a very high quality, the reviews were coming in at 4 and 5 stars and they were happy to look at any sub-genre of romance. I finished 'Sophie' and submitted a query.  I waited with bated breath and soon received an email asking for some revisions and then they would look again. I did the revisions and soon received an email saying they wanted to contract it – I literally danced around the kitchen, sweeping the dog up onto his hindlegs, LOL!
 
What's your favorite thing about the book featured here today? Any special memories you have in the creation of it?
There are several favorite things about 'Transatlantic Loving' I have – 1) I love the setting and the time. Everyone can remember the fantastic '80s music and outlandish trends, it was a great time! 2) Sexy Coach Aaron Taylor – yum, fell in love with him pretty darn quickly, I can tell you and of course his heroine 3) Lisa Cavendish is a divorcee with a tough outer shell and an inside as soft as marshmallow. She is funny, feisty, sexy and would make a great girlfriend to have.
What are you writing now? What's next for you—will you be making personal appearances anywhere our readers can find you?
I am currently writing my second Victorian romance set in Bath, England – it is the story of an unlikely pairing of the daughter of a middle-class gentleman and a con-man. Think Jane Austen meets the Artful Dodger!
What would you like to tell readers?
Please pop by and visit with me on my blog www.rachelbrimble.blogspot.com, especially on Tuesdays and Thursdays when I have guest authors talking about their latest releases or their writing routines (there is very often a prize or two up for grabs too!). Also see www.rachelbrimble.com for all my latest news!